At the heart of our expertise in industrial electricity
B2C Engineering focuses on the integration of innovative and sustainable solutions, taking into account the needs and constraints, particularly financial, of our industrial customers.
B2C Engineering carries out your projects involving industrial electricity during the study, design and on-site installation phases.
We can work on distribution installations (TGBT-TD) or industrial processes (MCC-PLC-Réseau) to bring them up to standard, integrate new systems or simply renovate your installations.
As each customer and project is unique, we guarantee the flexibility of our solutions to best meet your expectations and needs, while complying with current standards and the location of your installations.
Here's a closer look at an industrial electrical installation for one of our customers in the pharmaceutical sector.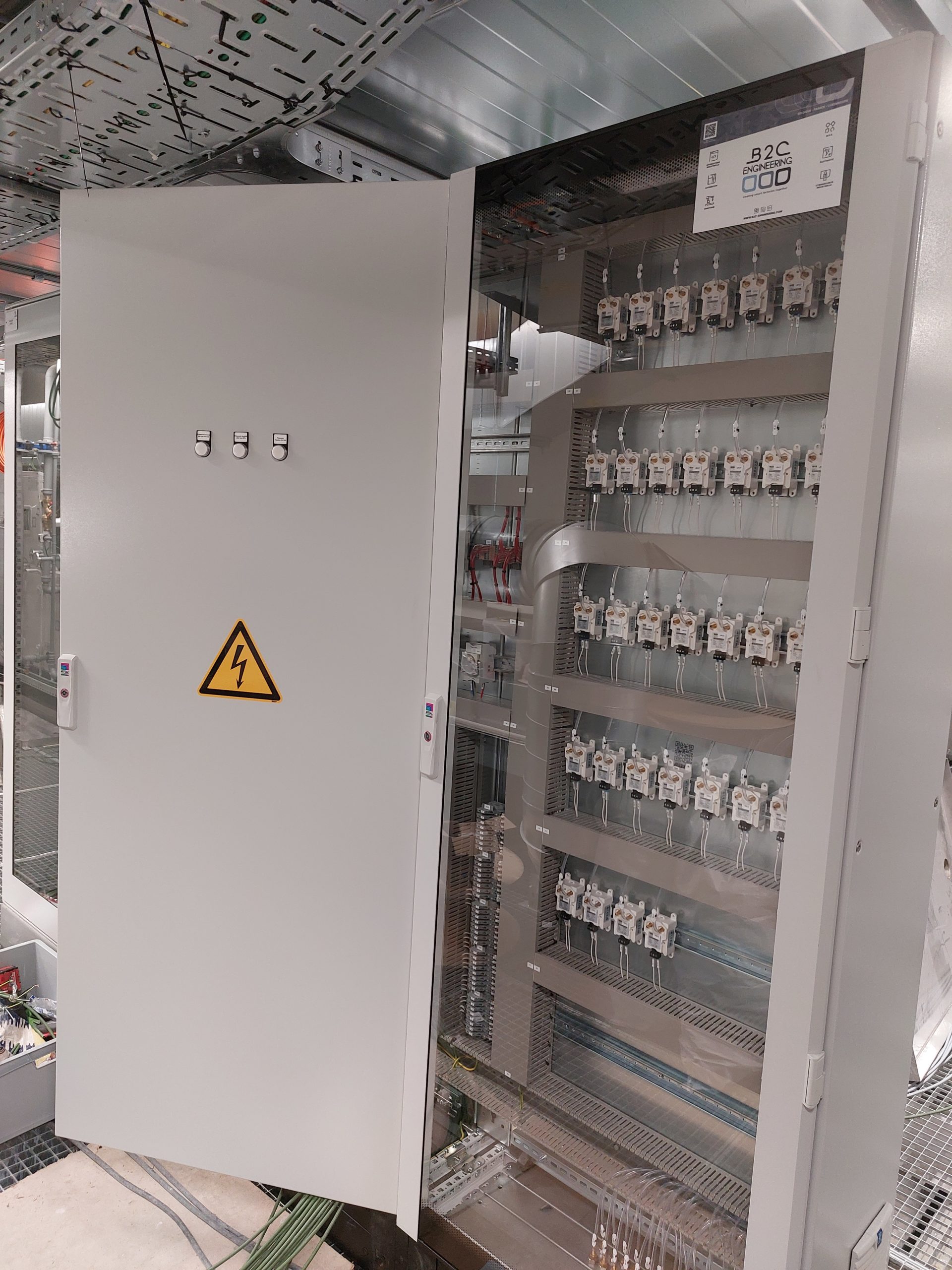 Our client, who runs a business centre dedicated to hosting pharmaceutical research companies, entrusted us with the project of monitoring environmental parameters and critical processes such as temperature, humidity and differential pressure, known as the EMS system.
B2C's mission in the electrical field was to :
Study, design, install and test the electrical cabinet used to retrieve environmental data,
Supply, install and connect the temperature, humidity and pressure sensors,
Interface with the building's PLC and supervision system.
B2C provided the following services:
Preliminary installation studies:

Establish the choice of equipment to be installed on site, such as probes and light beacons,
Study the layout of the equipment in order to draw up a complete cable bill of quantities,
Draw up specifications for cable pulling and site connections.
Electrical detail studies:

Drawing up diagrams using Eplan software,
Design the cabinet, layout, choice of components,
Draw up the PLC input-output list,
Drawing up the cable list.
Coordination and monitoring of the site:

Monitoring the progress of the site on a daily basis,
Taking part in coordination meetings,
Validating the lists and materials used,
Participating in and being responsible for FAT tests – workshop acceptance,
Coordinate SAT tests with the automation and supervision department.
At the end of the project:

Follow the punch list to ensure proper completion and customer satisfaction,
Complete the "As Built" files.
The customer can monitor and be sure of the environmental qualities, in order to guarantee the stringent requirements of the pharmaceutical industry. They can also monitor all the necessary data and intervene if necessary.
Find out all about our expertise on our page dedicated to industrial electricity.